Don & John are back, answering more questions from readers. This time the focus is on berries, the pests that love them, and where to find a good deal on orchard ladders.
Dear Don & John,
My neighbor and myself grow both Red Currants and Gooseberries.  This year we both have a bumper crop of fruit setting on our healthy, leafy bushes.  We were very excited, until we noticed that something (an insect?!) has carefully laid eggs in every single berry. You can visually see the damage on the outside of the not-yet ripe fruit and inside there is a small, white grub growing.
What pest would do this to Ribes family fruit and what can we do to discourage this is future years?
Rachel
Hi Rachel,
Thanks for writing in. We don't get many currant or gooseberry questions!
You're instinct about the problem being an insect is probably correct. Currants and gooseberries are usually a pain to grow here because of the Currant Fruit Fly which actually is a small fly which hits the fruit, and the Currant Sawfly which is not a fly but a type of wasp whose larvae look like currant-leaf-colored caterpillars. There's also a small chance it could be the Spotted Wing Drosophila (which they recently found in WA), but we suspect the larva is more likely the Currant Fruit Fly.
The good news is that there is a non-chemical way to address this issue. You should immediately pick all fruit and remove it from the area – I wouldn't recommend eating any of them, although if you only juice the fruit, you can still pick clean now and process.
The reason for removing them from the area is that the larvae drop to the ground and overwinter under the bushes, much as apple maggots burrow into ground under apple trees. Removing all the infected fruit may cut the life cycle enough such that you get a clean crop next year.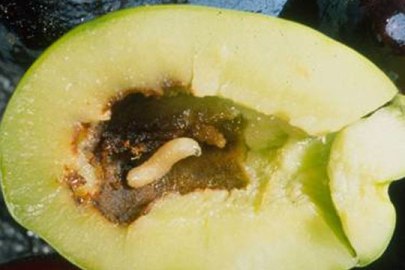 And while you can share this information with your neighbor, there's no telling what the rest of your neighborhood might be doing and there may be infested currants in your area which are not managed and these can re-infest your fruit next year. One way to help against that is to net the shrubs with a fine mesh just after pollination but before fruit begins to form. 
If you want to determine exactly which insect it is, save a handful of fruit, place in large Ziploc bag, store on kitchen counter, keep beady eye on it and see who emerges.  If a small vinegar fly emerges in a couple weeks or so, you have the Spotted Wing Drosophilia.  If no one emerges or rice-sized pupae are seen, you have the fruit worm which won't emerge until next year.
Hope that helps and good luck with the berries!
Don & John
---
Dear Don & John,
I actually have two questions built in to one request.
1.  My inherited apple tree (variety yet unknown) has some kind of disease causing the leaves on many branches to curl and look nasty.  How do I treat it without chemicals?  Is it too late? 
2.  Do you know where the best place is to get a reasonably priced orchard ladder (tri-pod style)?  Those things are crazy expensive.
Thanks,
Mark
Hi Mark,
Thanks for writing in and it looks like you get a 2-for-1 special today!
Your apple tree probably has apple scab, causing some leaf curl and color distortion and you can read all about how to manage that organically at our website. We've got some suggested sprays and techniques listed there.
However, if your leaves are tightly curled upward that could be a sign of a new insect, the Apple Leaf Curl Midge, that's been coming down from British Columbia, Canada. The damage is caused by the new larva feeding on the leaves – which can lead to distorted limb growth, pre-mature leaf dropping, etc. Luckily there is no evidence of reduced quality of fruit.
For a mature tree, you should be safe to ignore it.  For a 1 or 2 year old tree, remove affected leaves to try to save others from curl since it is thought to have 2 generations per year here. We would anticipate that
parasitoids
will slowly catch up with it and keep it in check.
With regards to the orchard ladders, yeah, they can definitely be pricey but worth it. You should probably be able to get by with a 6-8' ladder unless your tree is really tall. We've found Tallman to be an excellent brand generally, which you can sometimes find used. For new, we purchased ladders for City Fruit at Horizon in Bellevue, WA, but Wilson Irrigation in Yakima is also a good bet.
Hope that helps and good luck with the apple tree!
Don & John